It would be nice. If we can have a relaxing place in the fence of our own home. Without having to wait for Saturday or Sunday or a holiday to get to the sea or public hot spa. But We can rest at any time as we want. Today, I would like to invite you to see an ideas for Nice Outdoor Spa & Hot Tub Design With Rock, Some Idea no need to use a lot of space.
Let's decorate your empty area and turn into an outdoor spa. For relaxing and enjoy the nature of the body and recharge yourself with it. If you are interested in then try to get inspiration from these ideas.
The First Idea, Actually it does not need anything to decorate much, Just use the beautiful shape of natural rock. It really blend with the surrounding environment.
Next photo is another cool idea. That can be applied to change the roof balcony become a private spa. Then add an atmosphere to look closer to nature a bit by finding a small stone placed around the structure of bathtub. The roof is designed to be airy, it feels like we were bathed in the moonlight.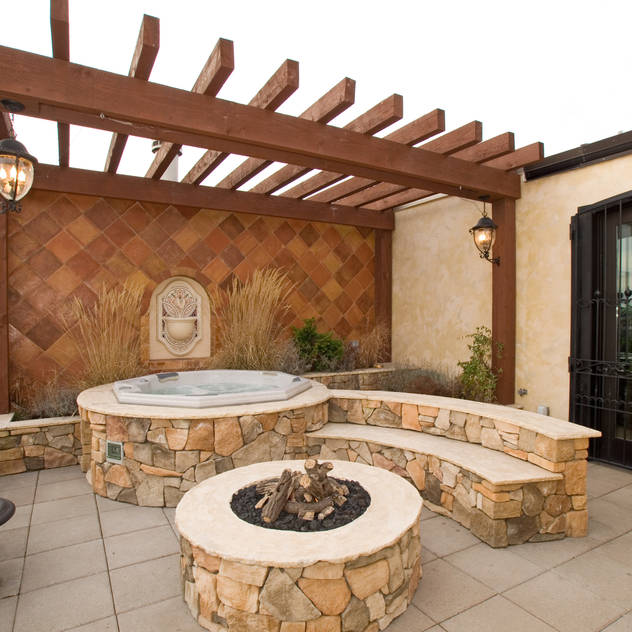 Outdoor bathroom Being popular. Outdoor showers can make you feel like you are doing a spa. Outdoor baths are ideal if you have the right space, such as in a garden that wants to create something new and exciting. It's a good idea to separate areas that will make you private enough.
This is a cool idea for your outdoor spa, it adapt a big stone to a bath basin.
Next, Let's see Modern outdoor bathroom, with modern bathtub and Pebble Floor, This style is good for small area.
The Idea below is outdoor onsen spa. It looks similar style , By Mostly using stone. Bringing Nature to decor. Make you feel comfortable both physically and mentally, and get a full refreshing.
Such an impressive idea to transform your backyard into a outdoor spa sanctuary. With an open air and atmosphere, It make you feel like you have a vacation everyday.
A Wooden Hot tub for single person and with a stone step and fire pit. It such a good idea of nature combination. You can have your relaxing place within small budget.What you want is a nice wooden tub, Yard Space, Rocks and some decorative a nice chair and a nice cushion that's it.
Final Idea for Nice Outdoor Spa & Hot Tub Design With Rock, It is Simple and Modern, Just put a jacuzzi in the appropriate place with a rocks wall behind. You can decorate with tree, plants and some wooden.
And Another Idea ;
Outdoor tubs are a great way to relax and enjoy the outdoors. They come in a variety of designs, including ones that feature rocks. Rock outdoor tubs are especially popular because they add a natural element to the design. They can be used to create an Outdoor oasis that includes a variety of different features.
Outdoor tubs can also be used to create a focal point in the landscape. When choosing an outdoor tub, it is important to consider the size and shape of the space where it will be placed. Outdoor tubs come in a variety of sizes and shapes, so it is important to find one that fits well in the space.
In addition, it is important to consider the climate and weather conditions in the area where the outdoor tub will be placed. Outdoor tubs should be strong and durable enough to withstand the elements. For those who live in areas with extreme weather conditions, it is important to choose an outdoor tub that is made from materials that can withstand the elements.
Outdoor tubs are a great way to relax and enjoy the outdoors. With so many different designs available, there is sure to be an Outdoor tub that is perfect for any home.